80 Level Job Digest: Great Positions for Artists & Game Designers
Ноябрьский дайджест прекрасных вакансий в крутых игровых компаниях — к вашим услугам.
* * *
Concept Artist (Environment) at Metaverse Game Studios
Metaverse is a young and independent game development company led by industry veterans who worked for core games such as Far Cry, Destiny, Halo series, Warface, League of Legends, Diablo Immortal, Mount&Blade series, Metro Exodus, and more. We are developing Angelic, which has an equal emphasis on storytelling and party-based RPG elements, all backed by a dark and compelling science-fiction setting in which you are often mesmerized by the complexity of the events happening around you. If you are up to a challenge and want to deliver unforgettable RPG experiences to players around the world, our family is ready to welcome you!
Skills & Requirements:
3+ years in the concept art role
A keen eye for atmosphere, composition, shape, color theory, light, value and detail
Being able to draw hard surface and organic shapes
A portfolio that demonstrates excellent Environment concept art skills
Being able to adapt realistic sci-fi art style
Ability to work from thumbnails, quick drafts to the final product with the Leads' and Directors' feedback
Knowledge of architecture
Staying up-to-date on industry trends
Great communication and being a team player
Fluent in English, both verbally and written
3D Character Artist at Streamline Studios
As a 3D Character Artist, you will need to solve a wide range of problems with well-rounded experience across multiple disciplines, with a specialization in the character production workflow.
You thrive on collaboration and report to the Lead Artist to work as a team toward the monthly content pushes and milestones. You have a natural curiosity for all parts of the creative pipeline, and invest time improving your skills.
Delivering excellence
Works efficiently and effectively within the technical constraints of production
Generates high-quality artwork that matches or exceeds studio standards
Communication
Keep the Lead Artist up to date regarding the status of tasks at all times
Obtain the Lead Artists' guidance and approval as needed on tasks, project initiatives and milestones
Proactively schedule own time as necessary, notify Managers and Lead Artists in advance of upcoming roadblocks and challenges
Team and personal development
Consistently refine one's own artistic abilities and learn new software packages and in-house tools
Contribute and help build a positive team environment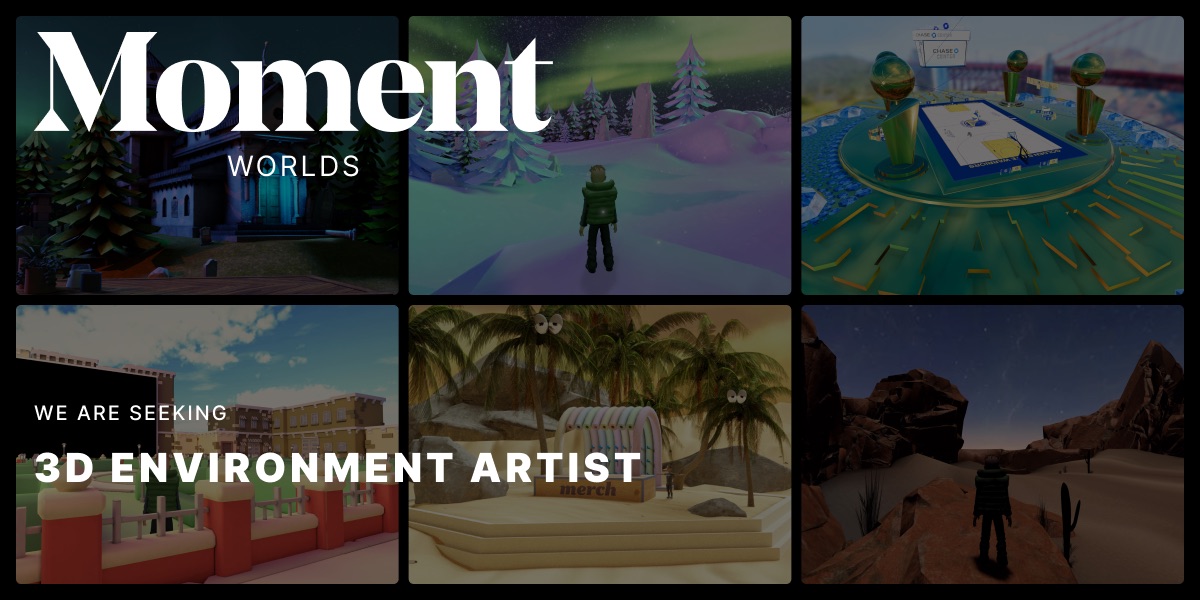 3D Environment Artist at Moment
Moment, formerly known as Moment House, is an immersive community platform expanding with an unannounced product called Worlds. Since its inception in 2019, we've helped artists and creators design, deploy, and monetize social experiences where their global communities gather. Live ticketed Moments with artists and creators from Justin Bieber, Halsey, and Anderson Paak to Andrew Schulz, KSI, Morbid: A True Crime Podcast, Tame Impala, Tiny Meat Gang, Kaytranada, Whitney Cummings, and Kygo have connected music, art, podcast, and comedy communities of millions across 168 countries. As a conduit for the community, we're expanding our immersive experiences platform with Worlds, a utility-forward product to enable artists and creators to build stronger bonds with their communities in real time.
Requirements:
Experience making aesthetically beautiful and performant 3D assets that pull out the creativity from the concepts
Experience with building well-optimized low-poly environment assets
High proficiency with Maya, ZBrush, Substance 3D Painter, and Photoshop.
Strong collaboration skills with everyone involved in the pipeline to ensure a great final product
Strong ability to create stylized hand-painted materials
A positive, passionate, and problem-solving approach to building 3D environments
Minimum 5 years of experience in professional game development as a 3D artist focused on environments
Senior Game Designer at Bongfish
As a Senior Game Designer, you will work on established games as well as fresh ideas from the conception and prototyping to the balancing and live operation phase.
Your experience allows you to work rather independently on the project or major features of the game in collaboration with the creative director and other designers.
About the role:
Understand the vision of a game and work on building and improving it for its audience
Analyze, envision and design deep game systems and user experiences, solving problems along the way
Own features from start to end and balance the needs of a large team in different fields
Improve user experiences by reading data and parsing feedback
Create and maintain design documentation and help the team implement and test them
Communicate with customers to get information and execute their ideas
Lead Character Concept Artist at Roboto Games
Hi! We're Roboto Games, a minty fresh venture-backed games company. Before this, we were leading games at PopCap, EA, and Space Ape. And this isn't our first rodeo/game studio. In 2007 we founded ZipZapPlay, a web and Facebook gaming company (we baked lots of cupcakes while making Baking Life), which we sold to PopCap (zombies also eat cupcakes it turns out) before they sold to EA in 2011. Since then we've also contributed to several mobile game hits. On average, we have 12 years of experience designing games with over $100m in revenue and over 65m players.
Requirements:
Minimum of 5+ years experience in game development focusing on concept art
At least 1 shipped 3D title in a Character Design role developing 3D characters for mobile and PC
Outstanding portfolio demonstrating a strong foundation in drawing, rendering, composition, lighting, color value, shape language, anatomy, and emotional storytelling
Expert knowledge of Adobe Suite or equivalent 2D graphics programs
Strong understanding of human anatomy with the ability to create stylized and appealing characters
Strong communication skills with fluency in written and spoken English
Be able to work autonomously but proactively seek direction
Technical Artist at Flying Wild Hog
We are a team of top-tier and dedicated developers, designers, programmers, and artists who make our studio a creative and devoted workplace. We only work on games we believe in – sharing our excitement and fully committing to the project is our recipe for extraordinary results.
Requirements:
At least one year's experience in game development in the role of an artist
Great technical skills
Knowledge of Unreal Engine
Being familiar with Substance Designer
Basic knowledge of 2D, 3D and animation packages and pipelines
Very good knowledge of physically based rendering (PBR)
Knowledge of objects scanning technology
Ability to fast prototype features, solutions, and pipelines
Familiarity with optimization techniques
3D Game Artist at The Gang
Since 2019, The Gang has been a leading gaming studio for Roblox games and our goal is to build the best, safest, and most engaging experiences in the world. We publish our own games and develop game experiences with the most successful brands in the world in music, fashion, entertainment and technology.
Our mission is to unlock the full creative potential of our audiences with innovative experiences and solutions. This year we have seen tremendous growth with several million active users every day and we are actively looking to find the best people to join us in shaping the future of metaverse experiences in Roblox and beyond.
Required Qualifications:
3 years of professional experience
Demonstrable proficiency in a 3D modeling package such as Blender, Maya or Max
Experience working in a games engine such as Unity or Unreal
Good understanding of technical constraints and optimization
Proficiency working in a cartoony or stylized art style
Experience working in an agile and iterative workflow
Fluency in English. Swedish is a bonus but not needed.
Недавние статьи
25/11/2023
7-8 декабря более 800 представителей местной и международной индустрии встретятся для двух дней активного нетворкинга.
23/05/2023
Присоединяйтесь оффлайн или онлайн к бизнес-конференции для представителей игровой индустрии WN Istanbul'23.
18/05/2023
Находясь на половине пути предполагаемого успеха, самое сложное — перевести успехи творческие в финансовые.