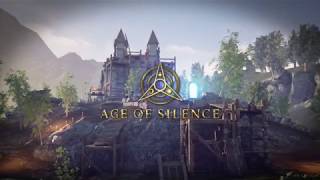 Age of Silence
by Game Gods
Description
Age of Silence is a single-player, first-person party-based RPG.
The gameplay is inspired by both the Might and Magic and Wizardry series. Action takes place in a fantasy world reborn after a cataclysm. The game focuses on  deep storytelling, exploration and a combination of various game mechanics.
Features
Flexible walkthrough.

 The game is meant to be played with a party, but you can also complete it solo.

Real-time combat with active pause.

 The game has a real-time combat system, but you can put it on pause in order to give commands to your companions.

Dynamic world.

 Every choice counts. A character's race, class, and skills along with the ways you complete quests and world encounters affect your game experience and walkthrough.

Rewarding exploration.

 The world is full of puzzles, traps and secrets; events happen as you journey across the map.

Stories within stories.

 Many sub-stories, non-linear quests and locations can be explored in any order.
More Info
USP
Reborn fantasy world. Explore the land that survived the cataclysm and recovered from the ashes.
Mix of genre features. A unique genre featuring  a combination of first-person party RPG, tactical RPG, quest and visual novel.
Advanced party management. You need to give more attention to the needs of your companions in order to keep them in the party.
Do not miss the opportunity. There are other heroes traveling around the world which are willing to contest you in completing quests and receiving rewards.
Cheat Death. Death is not the end of your story. You have a chance to avoid  it and save the lives of your companions.