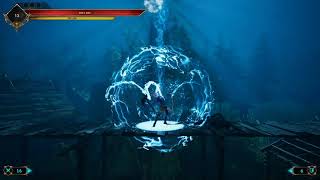 Demon skin
by Ludus future
Description
Single Player - Hack 'n' Slash - Fighting - platformer with RPG elements.

Medieval fantasy world of Anvilor. There are various types of undead, a race of underground damned gnomes — Derger, various underground inhabitants, magic characters. There are common and magical weapons. The player will visit winter rocky areas, a large ice cave, a deep dungeon, the city of the Dwarves and the summer forest of the Necromancers.
Features
An interesting combat system. A peculiar reaction / block combat system. Player and Enemy have three stance levels.
Enemies with their own personality and behavior.
Many Hero animations and his reactions to various gameplay situations, so that the Hero feels as a living being.
Hero can pick up a scorpion or a caterpillar from the ground and eat it, restoring a part of his health.
Secret rooms with artifact weapons.
More Info