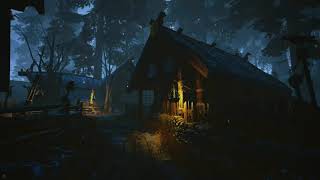 Helheim
by Enclave Studio
Description
Helheim is Action with elements of RPG, in the style of Dark Fantasy, with elements of horror. A gloomy and cold world full of cruelty and betrayal, in which the weak do not survive. And fate throws out the main character into this world.
Left without a family and a home, due to the sudden outbreak of civil war, the young heir of the Jomsvikings, named Skeggi, leaves the city and goes in an unknown direction, collecting scraps of the true picture.
On his way, he will meet many Getae with their difficult stories so reminiscent of famous sagas. He learns the price of betrayal and his own delusions. He will see the consequences of the plague and famine that have struck the Konungism, and will also reveal the truth about the causes of the civil war that deprived him of the throne. Skeggi will have to make difficult choices more than once, putting up with the cruelty of his world.
Over time, he will find the answers, but at what cost.
Features
Diverse combat system (light attacks, heavy attacks, parrying, finishing moves, hidden attacks).
The combat system changes as the character grow (new animations or their complete change). By the end of the game, the combat system will be different from the initial.
Three branches of skill development to choose from ("Berserker" - increases damage, "Hersir" - increases defense, "Huscarl" - increases attack speed). 
Several stories of different heroes who came from famous sagas, intersecting with the story of the protagonist and complementing it.
Vertical design (almost no straight path).
More Info
Linear world consisting of 8 locations
Riddles and traps preventing the protagonist.
Additional content in the form of books, notes, diaries created for those who like to read and dialogues for those who like to listen.
Thoughtful story, playing on the emotions of the player and maintaining the intrigue throughout the game. There is also a choice in dialogues (not as wide as in RPGs, but there is).