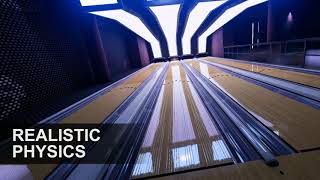 Let's Bowl VR
by Rising Fun Games
Description
Welcome to Let's Bowl VR!
This is an amazing bowling game for virtual reality with realistic physics and cool graphics. It's a great way to surprise your friends and have fun with the company playing a classic bowling game without leaving your home.
The physical model of this game is very detailed. It simulates the real ballistics of bowling ball. So you can throw the ball over a complex envelope trajectory (bowl a hook) for best results, just like professionals do.
Be a part of the Bowling History starting with the end of the 19th century through different times up until present! Enjoy the game in a variety of bowling clubs from different towns around the world!
Coming soon — You can play the game in single player mode or over the network with other players! Play, win, earn rewards and achievements, share your progress with your friends and of course collect your unique professional bowling outfit!
Features
The full list of features for the release version (coming soon):
Enjoy 4 game modes: arcade, career, challenges and online tournament.
The career mode - become the world champion in bowling!
Up to 16 players online in tournament mode.
Play online on your own bowling lane without breaks.
Win tournaments and take prizes!
Earn achievements and take your place in leaderboards!
Buy new equipment and powerups, open extra levels for in-game currency!
Customize your equipment: set of balls and personal skittles.
Learn how to play with your personal bowling tutor Natasha!