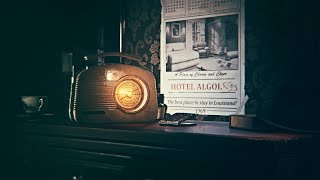 OnAir
by RainStyle production
Description
The game takes place in the USA in 1969 during hurricane Camilla. 
The main character is an operant Ray Smith, who is in a hurry to an important meeting with an informant. The informant  is an employee of Anchor, which owns the old Algol hotel in the swamps of Louisiana. Ray investigates cases of missing people and the incomprehensible secrecy around this place . But when he gets to the meeting point, he falls into a trap. As he wakes up in a hotel room from a heart- rending scream he realizes that he is in mortal danger. 
He has to get out of the hotel, but it's not so easy.
Creatures lurking in the dark , strange shadows, metallic screeching… 
The character  finds a unique device with which he manages to contact another person. He tells Ray that everything that is happening in the hotel is a conspiracy of some powerful people and he needs to get out of here as soon as possible. Together they're trying to escape from the hotel , getting deeper into the secrets of this mysterious place.