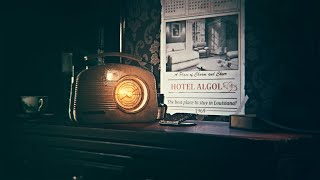 On Air
by RainStyle production
Description
ON AIR is a game in the genre of SURVIVAL HORROR with Sci-fi elements written in the first person.
You are to explore every corner of the gloomy old hotel Algol, alive with ominous creatures. Moreover, you need to unravel all the puzzles of this hotel and its inhabitants, overcoming your fear. From the first minutes of the game it can be realised that this place is not what it seems.
The game takes place in the United States in 1969, in Louisiana during a hurricane Camilla. Ray Smith is the main character, a man with no past who rushes to meet an informant on a marsh near the mysterious ALGOL hotel. The informant has to share very important information about the missing employees of ANCHOR company, which is recently known for its technological success.
Waking up trapped in one of the hotel rooms, Ray is trying to hide from his pursuers, find his informant and figure out what happened. Ordinary rooms and corridors turn into overgrown and frightening jungle. Creatures hiding in the dark, strange shadows, heartbreaking screeching... Ray quickly realizes that there has been some kind of contamination that spreads through the air and affects all organic and inorganic materials except metals and polymers. Main hero finds a unique device with which he manages to contact one more survivor. Together they try to get out of the hotel, using this technology that seems completely new and unusual for them and their world.
Features
More Info
Enemies:
Enemies are represented by a group of characters with individual abilities and characteristics. Some of them have the intelligence and it's not so easy to hide from them. Others are less reasonable beings that react to noise, act sharply and aggressively. There are also creatures that are in a state of dormancy until a certain point. The player has to find different methods of fighting with each of them.
Moreover, there will appear a possibility to interact with them as the plot unwinds, for example by using distractions, setting traps or stunning.

Gameplay:
The gameplay includes the search for the necessary items, as well as solving story tasks that help to reach new levels. Some items found in the game have unique properties. In addition to the main story at each level there are additional quests, allowing to reveal parallel storylines. During the game an atmosphere of 60s gradually transforms into an environment with Sci-Fi elements, which entails the appearance of many strange mechanisms and devices...