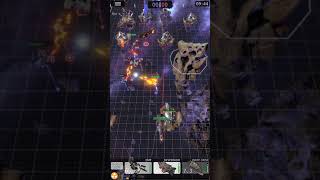 Singular Space
by Space Sauce
Description
Mobile real-time strategy about glorious battles of space fleets.
Use tactics and micromanagement in PvP and story missions.
Immerse yourself in a complex metagame with a wide variety of ships and weapons.
Discover the exciting universe of Singular Space.
More Info
As good as a PC game
Our development team is passionate about mobile and PC games.
In our opinion modern mobile midcore and hardcore games feel dull compared to "serious" PC games.
We want to fix this misconception and bring the vibrance and fidelity of PC gameplay to a mobile device.
Top level graphics
We use the latest rendering technologies and we craft our world and spaceships with great love and care, so that you can enjoy gorgeous graphics on your phone and tablet.
Spaceships - heroes
Each spaceship in Singular Space has its distinct style and a unique set of weapons.
Variety is huge: from the highly maneuverable assassin frigate capable of short range warp jumps, to the heavy battleship with shields and missile defense that dominates the battlefield.
Tactics and micromanagement
These are the pillars of our gameplay.
In Singular Space, your tactical thinking and awareness of game mechanics is more important than leveling and metagame.
Kill with skill, not numbers.
Clans
Get together with your friends and take over the galaxy!
Clan PvP, PvE raids, ratings and championships await you.
Lore and plot
We are big Sci-Fi fans and we want to build a consistent and lively universe, full of fascinating stories and characters.
Prepare yourself for intergalactic intrigues, ancient technologies, insane AI, space cats and a planet made of flesh.
Subscribe, comment and help us with development.
Together we will make a great game!