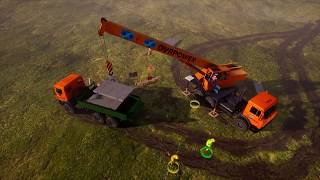 Slinger Simulator
by District Zero Studios
Description
Multiplayer  VR-training for business.
Concrete structures loading and unloading simulator with different roles (crane operator, slinger, signalman).
Features
Suitable for Oculus and HTC Vive
Adapted for free-roam — room sizes from 8х8 m2 to 10х15 m2.
Multiplayer (up to 15 players)
4 Custom roles — crane operator, slinger, singnalman, instructor
Gameplay recording and replays with flying camera
Game session length ~15-20 min.