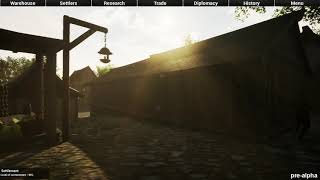 Vilset
by Another Reality
Description
Vilset is a strategic simulator based on the principle of survival of people, who turned out to be beyond the limits of their civilization.
In Vilset, the group of outcasts under your lead is going to build the best township in this world. But prior to this, your colonists will have to overcome some obstacles:
Thirst and hunger – it's hard to survive at grass;
Deceases – your charges can catch a variety of illnesses: from fractures and poisonings to plague and thought disorders;
Barbarian invasions – you can lose even scratches you've managed to collect, if you don't have weapons, guards and tough walls;
Droughts, floods and harsh snowy winters, which you will be able to survive, only if you'll manage to make food stock and appropriate clothes.
Features
What will help your settlers to survive:
Complete freedom of choice concerning the village construction. Want to build a pleasure house and workshop for each resident? Or, maybe, you'd like to make one huge barracks with a variety of rooms? Everything is possible. But it's not a sure bet that your residents will like sleeping next to the noisy blacksmith shop. And dissatisfied settlers work more badly, they are stressed, which can cause irreversible effects or even a disaster.


Developed production and a huge variety of professions. For instance, collection of virtuous herbs will help your doctor to make various drugs to cure his compatriots.


In-depth analysis of settlers' behavior: envy, love, relations, dislike – everything can affect people's mood.


Elaborate diplomatic relationship with other settlements. You will be able to trade and make alliances, and even fight wars and capture other settlements both by means of negotiation and by means of weapons.