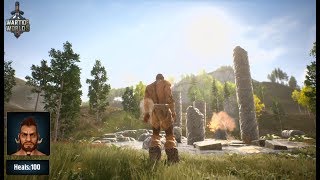 Wartide Worlds
by RedPad Games
Action RPG, MMO, MMORPG, Real-time strategy (RTS), Simulation, Strategy, Survival
Contact Developer
Description
Wartide Worlds-a game that tells the story of what will happen if people do not take care of the Earth and each other. If they Deplete their own resources, they will open up travel to the cosmic void in search of new ones.
In the game, you will take on the role of a participant in the future conflict of one of the three powers that differ as vividly as the hatred of competitors in the space arena burns.
You have a long way to go. From the first man who smashed a skull under his feet with a stick to the intergalactic fights for the right to own solar systems.
Which side will you be on? Will you perform under the battle standards of your country? Support an ideological opponent or take your own path?
The way to win and survive is only your choice!
Send troops of your warriors to watch the battle standing on a hill or pick up your favorite axe and show that you can turn the tide of the battle while in the center of events.
Choosing battle tactics, train the necessary soldiers. Control a squad of saboteurs who will be an invisible nightmare of nearby neighbors or an army of berserk thugs who can sweep away any enemy in a frontal attack.
Or maybe you don't want a war at all? Do you prefer the path of scientific knowledge and discovery or diplomacy and trade?
The choice is yours.
Wartide Worlds — we make worlds, and you write the history of this world!
Features
Mixing genres — MMO, RTS, TPA, RPG 
Various settings — from stone cave and medieval kingdoms to modernity and space conquest
Managing the world's economy by players
Elements for different types of player (quests, rankings and etc.)
Absence of pirates/cheaters