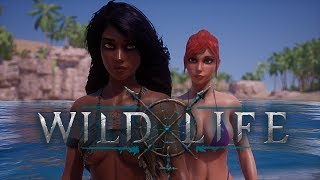 Wild Life
by Candy Valley Network
Description
In a world very different from ours life was relatively peaceful between the tribal people in touch with the lush nature around them and the creatures roaming the woods and vast landscapes. The balance shifted when foreigners from different worlds discovered the unspoiled environment and its inhabitants. Rogue criminals and vagabonds came to seek fortune and make a living by hunting and killing the majestic creatures and searching for rare, precious materials. Not only criminals developed an interest for the world, noble scholars started studying the world. They document and research the creatures and tribal people looking for ancient relics, witnesses to the times that were.

Become the heroine Maya — strong, beautiful and able to call upon her wings, her tribal heritage — in this gripping Adult Action-RPG. Roam the world from fertile forests to dry and sun-soaked deserts, spread your wings and cut through the skies of a world torn by greed and vanity. Find your own way to ensure your survival and embrace the possibilities of fighting and sex.
Features
The strongest elements of the game are the exploration of this untamed world and surviving its dangers. Interaction with all its inhabitants, building up sexual relationships with npcs and uncovering the story for the main character.

USP

Appealing mix of stylized character design and advanced semi-realistic graphics and beautiful landscapes
Unique merge of fantasy and sci-fi setting in an adult rpg with an engaging story and extensive adult content
Constant expansion of content by including new playable characters and storylines in frequent add-on packs.
Key Features

Simple gameplay that still feels rich and immersive
Detailed sexual interactions and relationships between player character and npcs
Large and versatile and beautifully designed open world with plenty of secrets to uncover
Combat RPG and survival elements merge nicely into an engaging game experience
Visual quality that is unmatched by any game in this genre